What is wrong with our GPS data?
Recently, I have been surprised by the differences between the distance reported by my GPS watch (a Garmin Fenix 2) and what is reported when importing the data into website such as Mapmyrun or Strava.
[caption id="attachment_1766" align="aligncenter" width="676"]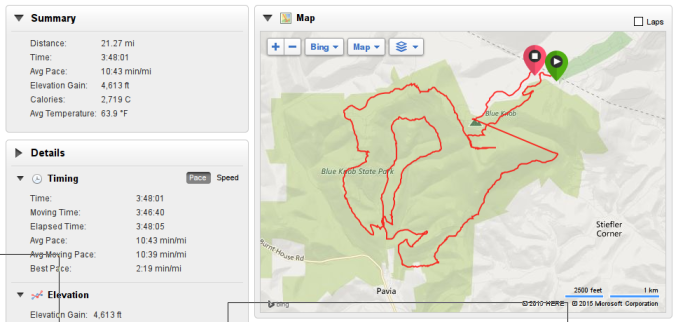 Data from Garmin Connect[/caption]
It happened this week-end at Rock'n The Knob, a 20 miles run on trails. I went off course, making an additional 1.5-ish mile. At the end of the run, my watch reported 21.27 miles, which made sense (20 miles for the race plus an additional mile or so for being off course). On the other hand, both mapmyrun and strava report 18.9 miles.
[caption id="attachment_1767" align="aligncenter" width="615"]
Same GPS file imported on mapmyrun[/caption]
So, who can you trust?
I tried to look at the strava website to see if they modify the GPS data. I found the following discussion and the technical support note to be interesting. It seems that website are doing some post-upload processing that mostly change the data you import and try to remove any bad GPS data. On the other hand, considering the race I did, it seems that this post-upload processing removes a lot of data, about 11%.
[caption id="attachment_1768" align="aligncenter" width="676"]

Same GPS file on Strava[/caption]
Many folks lately asked what is the most accurate data source between a watch and a phone. It turns out that this is not only the source of the data but also where you put the data and how it is processed. I am not a GPS specialist and strava or mapmyrun will not publish their own algorithms but for now, I rather trust my watch: so far, it has been consistent with other data sources (signs on the road, watches from other brands, etc.).