Burning River 100 Race Report (a.k.a how to run 30 hours with diarrhea)
Disclaimer: this post is long. Very long. It explains my epic Burning River 100 story, including why I signed up, how I trained and how the race was. So, if you want to read the whole thing, it might take some time.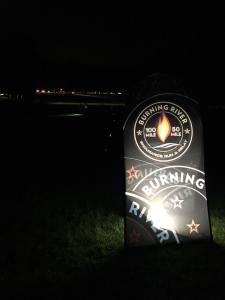 This is where it started: in the dark and early
How it started
It all started in November, while running the Bucky challenge. The night before the marathon, I found out that the registration for Burning River just opened and they had a 50 miles option. At that time, I only ran a 50K and few marathons. I had a 50 milers on the list (JFK) but did not even started it. That night, I had a beer called "Burning River" (from Great Lakes) and assumed this was a sign to register. I then signed up for a 50 miles race even before finishing one. I was excited. At that time, I think 50 milers was more than enough and did not even think running 100 milers.
It was supposed to be a great week-end: we will take a room at the finish line with my girlfriend and friends can come and support or just party! Everything was done to be a great week end and celebrate the joy of running.
Since then, things changed: I finished JFK 50 milers in a pretty good shape. After a few weeks, I got injured, which forced me to rest for a while. In the meantime, drama happened, I was single again, did not really want to run the 50 miles course and be involved voluntary in awkward situations. We were then in May and I was really considering to cancel my registration.
Looking then at my training log, my recent races and thought I might be physically ready to run a 100 milers. As the 100 miles and 50 miles races start at different time and finish at different place, I will avoid any awkwardness or stress. This would even be a better strategy to avoid any uncomfortable situation and double the miles. This started to be exciting again. I double checked the feasibility of running a 100 milers: first with the race director (switching from 50 to 100 was possible) and with previous runners. It sounds that my training was more than enough. As soon as I got the green light from the race director, I signed up.
I was then registered for Burning River 100 milers. And it will be awesome.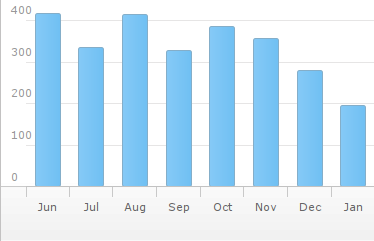 Monthly mileage in 2014
The Training
During 2014, I was already running to work and was logging (in average) 60 to 100 miles per week. I then got injured in January and was then forced to take some rest to recover. I started to run again very slowly in February and ran a marathon in March. It did not feel great but at least, was able to finish it. Then, I completed a 50K in March and ran Pittsburgh with a good time while being highly dehydrated. At that time, the injury was just an old story, which was confirmed the next month by running Laurel Highland 50K and finishing strong in a very good shape in 6:15. From April to June, I ran from 60 to 90 miles a week and finish with 20+ miles long runs and/or back to back long runs without feeling any soreness.
Also, as I prepared for Laurel Highland 50K, I started to eat hills for breakfast and dinner every day. It was hard in the beginning: my heart was quickly racing but after a while, these hills were no longer a problem. It also increased my time on roads, this is how I finished Pittsburgh Marathon in 3:31 (PR at that time). I was then getting stronger and faster.Finally, it was time to adapt to the particular conditions of a 100 milers by:
Running at night: I ran during the night with some friends to test the gear I wanted to use at night and make sure it will be ok for me.
Running while hungry: I forced myself to be hungry during some runs. I was then very angry with other people, so, I tried to do that when I will not have any social interaction (e.g. not when running to work).
Running when being tired and sleep deprived: I traveled to Spain one month before the race and forced not to sleep a lot when flying and run right after. This taught me how my body reacted and what I could expect.

Weekly mileage from March 2015 to June 2015
From a training perspective, everything seemed to be ready. I had to finalize the race preparation, especially in terms of nutrition and organization (drop bags, pacer, etc.).
Nutrition Plan
JFK 50 milers and Forget the PR were two disasters where I lost almost 1 hours due to a bad nutrition plan. It was time for change and started to see what feel good. After trying different recipes, I found that I had less stomach pain when eating vegetarian. In addition, I stopped drinking alcohol for a while to see the effect it had on my body. Surprisingly, the pain I experienced before was no longer there. Then, I decided to follow this no-alcohol policy until race day at least to make sure no such detail could ruin my race.
Finally, I found an answer to the usual question of "what to eat before the race". While I do not believe in carb-loading, this is important to have a nutritious meal before the race. Something that gives you the energy you will need during race day. After trying different things, I turns out that eating a low-GI food with any form of fat/protein was working. I baked my own bread and took peanut butter and banana (or chocolate chips) on top of it.
I tried this strategy for Laurel Highlands 50K and seemed to work well. I also tried the nutrition during the race and stick with very basic stuff, mostly watermelon, banana, salt, some trail mix and/or M&M's. Forget the peanut butter and chocolate balls and other grilled cheese sandwich. Do what you are supposed to do: run a race, not eat like a pig. This is a trail race, not a Denny's dinner.
The nutrition plan was all set then.Drop Bags
There are drop bags available and you have 7 opportunities to get your bags. I carefully packed drop bags that had:
socks - having dry socks is always great and avoid blisters. I did not use all of them and paid the price at the finish
sunscreen: especially during the day. it was useless considering that the race had sunscreen at the aid station
bug spray: the aid station also has it - useless for this race
hair band
batteries: for the headlamp as well as backup flashlight (only when running at night, I packed these items for the drop bag at the aid station after mile 60)
toilet paper: very useful in the conditions I started this race (see below)
In some bags, I put shoes in case I need to change. The goal was to be able to be self-sufficient over the whole race. Even if I had a pacer and potential support, I did not know what will happen to them (they might have something coming up that day). So, I packed everything with the idea that I will have to be alone for the whole thing.
Getting Sick
In my training plan, I included a run at night with friends. On this day, my whole GI track started to be really weird and I had issues for a week (nausea, sensation of fainting, etc.). It improved day after day and was thinking everything was on track for race day. Unfortunately, two days before the race, I went to a restaurant for a lunch with a customer. I do not know why (and if I will ever know) but after this meal, I was totally sick and did not recover until race day. I felt nauseous, food did not stick and was loosing a lot of water. Also, I lost my appetite and eat very little, which is not what I am used to. My energy was draining quickly because of it but I was also not refueling properly.
For sure, I could have DNS (Did Not Start) and stay home and complains or going to the doctor, which will give me probably potential useless medication. But this is not what I am. I am a guy that enjoys the outdoor, that loves to try new things and go for adventures. Even if my body hurt, if I had pain, it did not cost anything to give a try: at worst, I drop - at best, I finished.
So, I put my ass into the shuttle and pray that I will not puke during the trip to the starting line.
The Race
The race is a point to point and organizers offer shuttle from the finish to the start. You have to get up early (buses leave at 2:15) but this is very convenient. There are aid stations every 5 miles so that you do not have to pack so much stuff - just refill your water bottles and take snacks. The 100 milers solo starts at 4am.
For the first 11 miles, you are on the roads. When starting, I was surprised to see many guys running very fast. I thought I was too slow but figured that I just had to run my own race. During these first 11 miles, I started to have pain, which stopped me several times during the race. After the first five miles, I already stopped so many times that I changed immediately my objectives from running under 20 hours to just finishing. The pain was getting intense and the faster I run the more intense the pain was. At that time, all I wanted was to be done with this road section and go in the trails: I am slower in the trails, which reduces the pain. When making it to aid station at mile 11, I see James and Paul, two great runner from Steel City Road Runners. They asked me if I was feeling ok, I just replied "not really". I was just in pain and tried to go out of this aid station. And no longer feels the pain.
From mile 11 to mile 31, the situation continued to be worst. The heat started to impact me. I was loosing of energy and water because of the pain and by just sweating. I stopped several times. Tried to run. The mile 31 Aid-Station (Alexander) was definitively helpful - the ladies here had sponges in a big ice bucket - a great way to refresh. Unfortunately, no food was able to stick and everything made me sick. I tried to take something small when I can but try not to take too much to avoid to aggravate the situation.
Over the next 20 miles, my only idea was to be able to make it to mile 53, the Stanford House, where my pacer was waiting for me. The idea of eating anything was disgusting and had a hard time to even drink. The heat was at the maximum then and I started to feel really bad. During this run, I met some folks. I remembered a 60+ years old dude (Raymond) running the 100 milers. He is a strong runner (3:30 marathon time) and seemed in a very good shape (at least, better than me!). We passed each other several times. I also remembered a nice girl from Cranberry (a physical trainer) that was doing her first 100 miler. We also passed each other several times. Before reaching the Stanford House aid station (mile 53), there are a lot of steps that literally killed me. I was then mentally and physically exhausted. I made it to the half-way point, the Stanford House. I did not want to continue.
The race rules said that if you make it to the Stanford House and drop, you can still get a medal. After all, it could be a nice way to finish: just run 50 miles, get your medals, stuff your stomach with pizza and other junk food and get the fuck out. But Erica (my pacer) and Ali (her girlfriend) were there and came down to help me. And it would be rude to drop: in that case, it would have been useless for them to come. And also, dropping like this is not what I am: I was there to do the 100, not the 50 and when you commit to do something, you finish it, unless there was a good reason for not doing it. And the reasons I wanted to drop were not good reasons. I was low on energy but there was still some fuel in the tank. Probably not enough to keep going until mile 100 but still some: why not trying to see where we can go? But at that time, I did not yet know that these girls will make me finish this race.
Erica and I started to run from mile 53 to the next aid station. Quickly, the pain forced me to stop a few of times (actually, one mile after we left). I was feeling outside of my comfort zone but not in a good way: in was really painful and uncomfortable. The type of pain you do not want to ever experience. Erica quickly noticed it and took actions right away. She called Ali and asked her to bring chips and drinks to the next aid station. When we reached the next aid station (Pine Lane), Ali was there, waiting for us with the supplies Erica asked for. Erica forced me to drink several cups (around 6, I guess) of water and eat chips and salt tablets. We met Garrett, a friend of ours that was running the course. He seemed strong, standing and ready to continue. This made me feel bad: I was there, laying down, very dehydrated and out of energy. I was seeing him finish and was not sure about myself. After a few minutes, it was time to stop daydreaming.
So, we took off.
I was feeling a little bit better but not so great. We started to walk. A lot. And talk. A lot. About everything, from politics to private life. I loved it. It helped me to go through the pain for a while. We also stopped on a bench to take a break. At that time, I did not know if we were taking our time because we will drop soon or if it was just temporary. Unfortunately, soon the pain stopped me again. Erica explained my pain to somebody in a parking lot. The dude told us he usually takes a medication when running to avoid stomach aches and diarrhea for 12 hours. He had one tablet left in his car and gave it to me. I took it right away: if it works, it would then avoid any energy and water loss due to the pain I had. We took off. During that leg, running was still painful and, as time went on, I was feeling very weak. It started to be dark and the feeling of being nauseous increased over and over. Erica reminded me to drink every 10 minutes. Until the finish, she will remind me to drink all my water between aid station. And she will make sure I take at least 3 cups of water before the next aid station. It made a lot of difference.
Then, we reached the Ledges aid station. Mile 65. At that point, I did 100K. Longest. Run. Ever.
I was done, exhausted, tired and my only wish was to go back home and stay in bed. Ali (best crew ever!) was there, she put a blanket so that I can lay down and rest for a while without having bug bites. Erica brought me three cups of water and chips. I did not even think about running again. I no longer wanted to be part of it. Then, I took a nap. Just sleeping for some time. After all, if I am no longer doing this, who cares? After some minutes, I woke up and was feeling great again. I wanted to do this, to finish it. The medication I took about a hour ago seemed to work, so it was time to refuel: I took some potato soup (awesome job from the Aid Station!), Pizza and Chips.
It was time to rock it.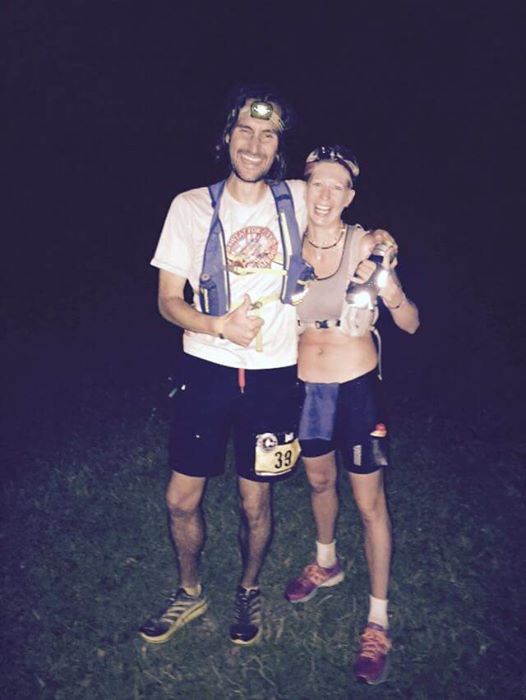 "I run like my grandpa walks" - Ledge Aid Station. Thanks to Erica, after this, everything becomes magical
Going to the next aid stations was not easy but there was improvement: I did not have to stop as much as before and I was feeling better overall. Erica continues to tell me to take water, a lot of water. Between each leg, she forced me to take at least 16 ounces. Then, we made it to pine Hollow 1 (mile 71). When I got there, Kristen, a good friend, was waiting for us with food! I was not expecting this at all and it was definitively a great surprise. She stayed at this aid station and even later until mile 90. Having friends around definitively gives you extra energy.
We did the loop around the aid station and continue the course. Then, we made it to Covered Bridge I (mile 80). At that point, it was no question to drop: the investment was so big at that point that I was no longer thinking about it. We had to make it. I had a bad moment and took a cheese sandwich to refuel. I lay down for a while. Erica was throwing up. The aid stations volunteers came to me to check if I was feeling ok. They asked me: "what are you doing? are you ok?". I just say that I was fine and I will continue with Erica. They just asked me: "where is Erica?" and Ali told them: "she is throwing up". They just said that it sounded bad. But who cares? We had fun and all what mattered at that time was to finish.
When we made it to Covered Bridge II (mile 85.7), we were tired but knew we could make it. I was debating if I could take a short break but the volunteer told me:"you might regret the two minutes break later". This motivates me to stand up and run. We have 80 minutes to run 5 miles, mostly on roads. The something unexpected happened: the medication I took before (around mile 60) stopped to work (yes, it works for only 12 hours max). The pain was back and I had to stop again. I started to increase the pace then and we then made it to mile 90.
At mile 90, the cut offs until the finish were really generous. You can almost walk the whole thing to the finish. The strategy was to run not too fast to avoid any pain that will top me. We continue and reached the last aid station (mile 95). The last five miles are pancake flat and have just two hills and 30 steps to climb. The rest is mostly road. We walked most of it. Then, a lady came to us and told us the finish was two miles away. With only 40 minutes before the cut off, it was definitively time to run. And fast.
Erica motivated me, she continued and congratulated me all the time, encouraging me to keep going to the finish. I then started to run a slow pace (about 10 min/mile) and a faster pace (9 min/mile) until the finish. We crossed the finish line when the clock was around 29 hours and 54 minutes. At the finish, Garrett was there and gave me a high five, I just loved it and appreciated a lot that somebody I considered as a good runner waited for me, this was totally unexpected.
After crossing the finish line, I took Erica in my arms. I never, never expected she would be able to transform the zombie I was more than 16 hours ago into somebody able to finish this race. She was the right person at the right time. This was so unexpected. I am grateful to have her and Ali on this journey and I am glad and proud not only to complete the race but have done it with these girls. Kim, one of the person that inspired me to run long distances two years go, was there as well and congratulate me. It was also unexpected and I was honored by seeing her.
After crossing the finish, I investigated the damages. I got huge blisters on my feet, my muscles were really sore, walking was already very painful.Not a big deal, this will be temporary. After a shower, I laid down on my bed. The next sound I heard was the alarm clock.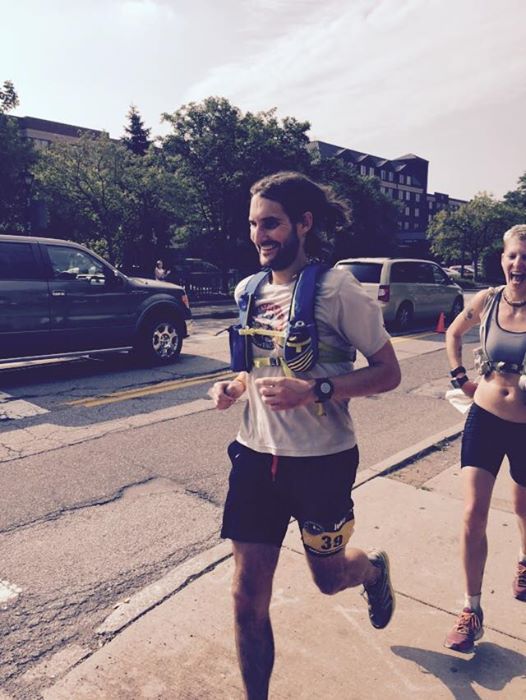 Euphoric finishing with Erica - always happy
Lessons learned
About Running a 100 milers
If you feel really tired, exhausted and do not feel you can make it to the finish: try to spare 10 minutes (e.g. it does not jeopardize your finish time by not making a cut-off) and take a nap. Re-evaluate the situation after until the cutoff (unless you have a huge issue)
Hydrate, hydrate, hydrate. Drink. A. Lot.
Embrace the down time. There will be time you think this is beyond what you can do, when you just want to drop. It will be temporary. Again, this will be a very long race, this times will pass
You might have some hallucinations, hear voices or see things that do not exist during your runs. This will pass as well.
Eat and try to get your calories in. Soup is a great way to refuel because you get salt and hydrate.
Do not go out too fast/quick. You have all the time to figure things out. This will be a very long day and you have a lot of miles to run - take your time. As detailed later, run your own race.
If you do not mind losing a couple of minutes at an aid station: change socks and shoes often. This would then avoid blisters and pain after the race (from personal experience)
Use bug spray at ***each*** aid station, otherwise, you pay the cost the next day
Run your own race: it does not matter if you are slow/fast, if you take your time at the aid station or if this guy looks great or not. What matters is to cross the finish line. Keep this ass moving and get out the aid station before the cut off and you will be fine. Do not make any assumption about anybody (including yourself): what matter is to cross the finish line.
About Running while being sick
Pack toilet paper with ziploc in ALL your drop bags (no exception)
Keep at least ONE ziploc with toilet paper in a pocket you can reach, not in your bagpack (you will thank me later)
Keep eating - you need the calories - even if your body does not process everything, you need some calories in so try to give it the opportunity to process some
Keep drinking - you need to hydrate - otherwise, you put your body at extreme risk: renal failure, rhabdomyolosis and kidney failure
Put medication into your drop bags and potentially your bagpack
Take salt - if food does not stick and you cannot eat something with salt, the salt tablets will still work
About Burning River 100
Be prepared before the Stanford House (about mid-way). You will have to climb a set of stairs. This is going to slow you down.
Be careful about the loops - the race includes three loops - do not miss them
The Aid stations have sunscreen and bug spray - no need to pack it in your drop bag
The probability to get lost is very small
The aid stations are well stocked and unless you have a special condition/expectation, you will find anything you need
Volunteers are awesome!The race organizers are very friendly and accommodating
And now?
Not sure what are the next steps. I am planning to take a break from running for a while. I am still registered for some races but will not sign up for something for the next couple of months. I will still run Tussey Mountainback 50 milers in October and will figure things out after. Do not misunderstand me, I will still run to stay active and healthy (e.g. run to work almost every day) but will not train as hard as I did during the past months. It is time to recover physically and mentally and focus on other things, such as sleeping, programming, working or getting a real social life.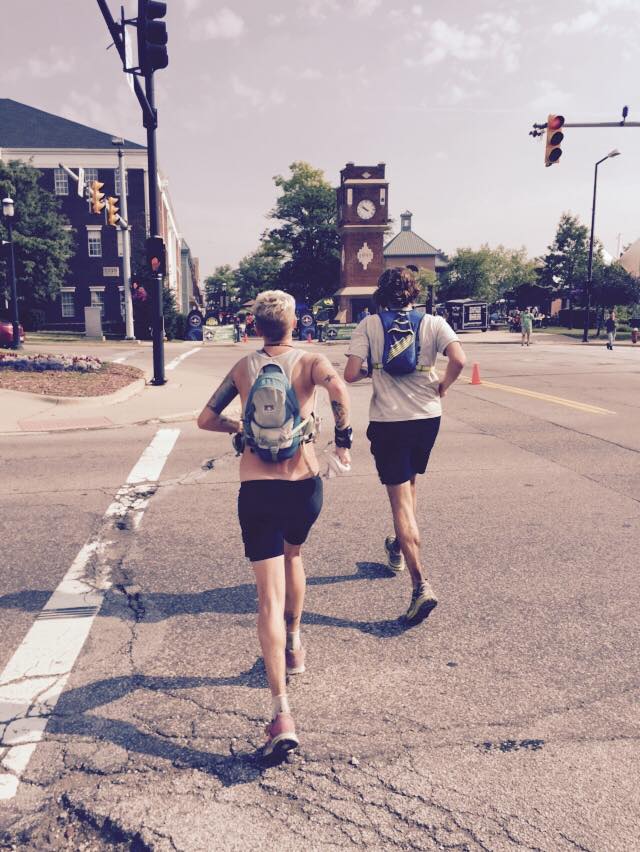 Finish Strong and before the cut off
Special Thanks
There are some people that are part of the full process of thinking doing a 100 miles, preparing for it and finally doing it. My first thoughts to to Erica and Ali. Without Erica, I would probably not have finished the race as I did - she took care of me and made sure I got everything to get more energy to finish this race. The right person at the right time with the right solutions. Erica's girlfriend, Ali, was a fantastic support over the course. She waited for her at each aid station while she could have stayed home and/or sleep at the hotel. But she stay awake and brings everything we needed. I did not expected this. Of course, there are many other people I would like to thank: friends (such as Aaron - for the training, Julie - for her support, Kristen for coming at night to help!), co-workers and managers at work (who give me the flexibility to work while training and still trust me) and more generally the running groups I usually join (especially Steel City Road Runners or North Park Trail Runners). I know I am missing other folks, but whoever that was part of the training or the race, thanks for being part of this fantastic journey.
And finally, thanks to the race organizers and the volunteers for making such an event. Everything was well marked (we never got lost, which is a challenge over 100 miles!), the volunteers are super friendly and helpful. This is definitively a great event and if you are looking for your first 50 miler or 100 miler, this might be the event you want to sign up for.
Information and Links
Note: pictures from Kim Mangan - thanks for taking them!