From Obese to Ultra-Runner
For those who know me a little bit, there is no secret that I was obese a couple of years ago. I weighted about 300 pounds at max (290 to be precise) and of course, at that time, any physical activity (i.e. climbing the stairs) was fantastic quest that has to be rewarded with a treat (i.e. a big cookie). My relation to physical activity was like a monkey in a circus. At that time, I was married (kind of, we called that PACS in France), unhappy, not confident with myself and, well, still geek. My eating habits were totally disorganized and did not take into account any nutrition information into account. For example, I used to eat about 5 to 10 slices of brioche (low-fat of course, at least, this was what the package said) with butter and jelly while waiting for my wife to come back from work, just before ... having dinner. And my physical activity consisted in taking the stairs once in a while or sometimes walk when the metro in Paris was on strike (so, very often).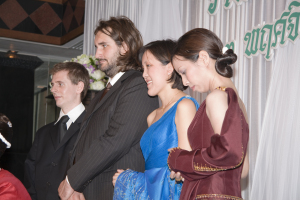 French guy - fatty version (double chin included)
Going alone on a week-end, I faced reality: my life sucked. I had beers with a good friend who was in the very same situation. We decided to take action: we were going to break up our relation and change. It was not only about diet but my whole living pattern. Let's not give up our dreams and make them happen. After breaking up, I embrace a new life style. I decided to become more fit, changed my eating patterns, learn about food, nutrition information and lost some weight. I took the time to work, listen and understand others. This was the start.
Then, I met another person that supported me and, after having lost 60 pounds, introduced me into the running thing. I remembered my first run: we drove to the beach in Marseille (France) and smoked a last cigarette before starting. I do not know nor remember why we continue but it was hard. Very hard. So hard. After thinking I ran one hour, I looked at the watch and faced reality again: I started 10 minutes ago. That was epic.
Five years after this first run, I finished my first ultra today. In between, I completed several marathons, half marathons and other distances (5K, 10K, etc.) over several months and even years. I even completed the GR20 in Corsica, the type of experience you have once in your life. I also started to cross train, used to swim a lot and discover many new folks (in between, I switch jobs several times and related to other countries as well). During this whole experience, I lost more than 160 pounds (the minimum weight was 130 pounds - 59 Kg) and of course, quit smoking because it compromised my performance. But on the other hand, I also experienced troubles due to food or sleep deprivation. I went into the emergency room a couple of times and, of course, learn the hard way what depression and social isolation means. Some moments were happy, other are sad and let you remember why you should be thankful for the good ones. And learning from your mistakes help you to improve yourself and do not repeat previous failures.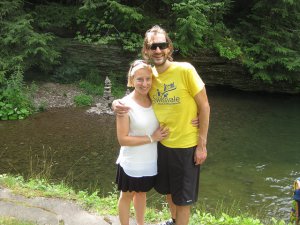 same guy after 5 years (girl not included)
Pretty often, my path cross other people that also want to change but does not know what to do. They are often asking what I ate to lose weight, how I trained. This is very hard to summarize everything because all of this happened in several years and is also connected to several episodes of my life and this is difficult to disconnect the personal experience and only relate facts that could apply to anybody.
However, I tried to do it and wrote a sort of book called "Eat, Move & Love". Obviously, this is very poorly written but the efforts was to sum up the most important information about the way I lost the weight and started exercising. This is released under a Creative Commons license, so, there is no restriction for using or sharing it. The only thing I might ask is about having feedback: if you hate it or like it, it would be nice to know what and why so that I can try to improve it. Also, in case you want to contribute and/or have suggestions to update/improve it, do not hesitate to contact me!
Hope that might help!