Guide to discover Paris and France (before or after the Marathon)
As some running friends are going to run the Paris marathon in April and because I spent more than nine years in this city, I wanted to give some tips to discover the city and find good spots to go around. This guide is for everybody willing to discover Paris, not only for runners. If you have any suggestion or question, please contact me.
A note about the marathon. I never ran it but check out the route and the race information. It seems to be a great race: it will bring runners to many beautiful historic spots! This is mostly close to the Seine river but this is also where most the attractions are. During the marathon, you will see the Eiffel Tower, the Place de la Bastille, the Champs Elysee avenue, the Concorde Place or also Notre Dame de Paris. Obviously, this will be very scenic as long as the sun is shining!
But if you are flying to run the marathon, you might want some advice to discover the city! So, follow these traveling tips to explore Paris!
General Advices
In Paris, many folks will speak english. Do not hesitate to try to speak english if you are looking for something rather than trying to speak french at all cost.
Always have 10 euros in you in case of emergency. This can help: a taxi fare is most of the time less than 10 euros (so, no regardless where you are, you can come back safely), if you are really hungry, you can always come back, etc.
Be careful, many credit cards work with a chip (pin). Be careful about that
For small amount, shops do not take credit card. So, have some cash available in your wallet
When traveling, please double or even triple check your health insurance policy. If you get sick abroad, it is going to cost you a lot (more than a couple of thousands euros)
If you are in trouble, the number to call are : 17 (Police), 18 (Fire) or 15 (Medical Emergency). In Europe (including France), you can also always call 112. See this website.
We do not give a tip to a server. Except when you have awesome service, you can give 1 or 2 euros. But the servers/waitress are not paid by the tip
When going to a restaurant, you can always ask for tap water. We call that "carafe d'eau". In opposite, the water bottle (spring or mineral water) is about 5 euros per bottle. Obviously, in Paris, the quality of the water is more than ok and you can just take tap water. To ask your server, gently ask "une carafe d'eau s'il vous plait".
Also, in restaurant, bread is also included and you can ask as much as you want. Just ask gently "du pain s'il vous plait". However, most of the time, the quality is not so good (it depends on the restaurant of course).
French people and salesperson do not know what customer service are. Yes, French are asshole. Now, you know.
Looking for wine? Get a bottle at Nicolas (a wine chain in France). They carry good wines overall and many managers have good taste. Sure, this is not very fancy but it might reduce the likelihood to get a bad bottle!
Understanding Paris
Paris is a city separated in different districts (arrondissements). Each arrondissement has its own specialty. You might not notice it when visiting but there are important differences between them in terms of population, activity, etc. There are 20 arrondissements. The 1st arrondissement is in the center of Paris and the arrondissements are spread over the city as a snail. The following picture show their distribution.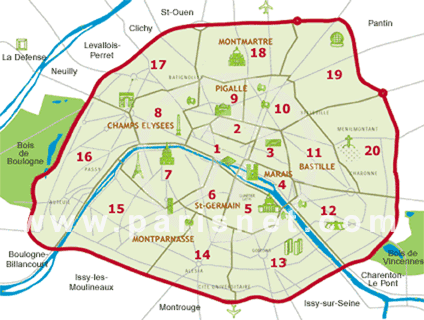 Map of the arrondissements location in Paris (from parisnet.com)
Generally speaking, most attractions are in the center of the city, in the first arrondissements. The more you go away from the center the less you will see historic buildings. However, this is also in these other arrondissements that the new Paris is growing, so, depending on what you want to see, it can be interesting to have a look at them.
Move around
From the airport to the city
First of all, the Paris CDG airport looks like a Russian prison. Not easy to go around, this is very not well designed and going around is just a painful experience. Once you get there, you have two main options to go to the city: public transportation (about 8 euros per person) or taxi (about 50 euros for the cab). If you can afford, I would recommend the taxi: the public transportation is really not convenient if you have a lot of baggages, take forever (up to 1.5 hour) and go through unsafe area (the North suburbs). This can definitively be a bad and disturbing experience and if you can avoid it, I would highly recommend it.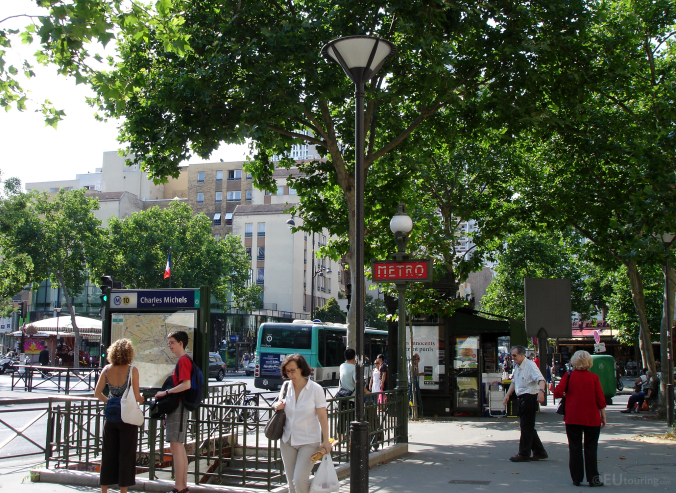 Metro Station from Outside
Metro/Subway
The metro system is managed by the RATP. Each line has a number and an associated color (for example, line 1 is in yellow). The subway system is the main public transportation system used by people living in and around the city. Obviously, the subway within the city is well maintained and very efficient. You can expect a new train every five minutes (or even less during high traffic - when people commute). You can check the maps and schedule online on the RATP website. There is also a howto to get you familiar with the system. The metro map show you the location of each station. You can see this map in the street, this is printed at the entrance of all metro stations. This is a great way to know where you are in the city. Look at the picture: a metro station has always a panel with a map, the name of the station (here: "Charles Michels") and the number of the line (here: 10). Also, see the sign "Metro" that notifies a station is here.
The subway operates from very early in the morning (about 5/6am) to lately at night (about 1 or 2am). A ticket is 1.8 euro per fare. Tourists can purchase a pass for 1 t o5 days. Prices vary from 11 to 35 euros, depending on how long you plan to use it. You need to purchase the pass at a metro station before taking the train. Be careful that prices are different as soon as you go outside the city. So, be careful and take appropriate information if you plan to go outside the city.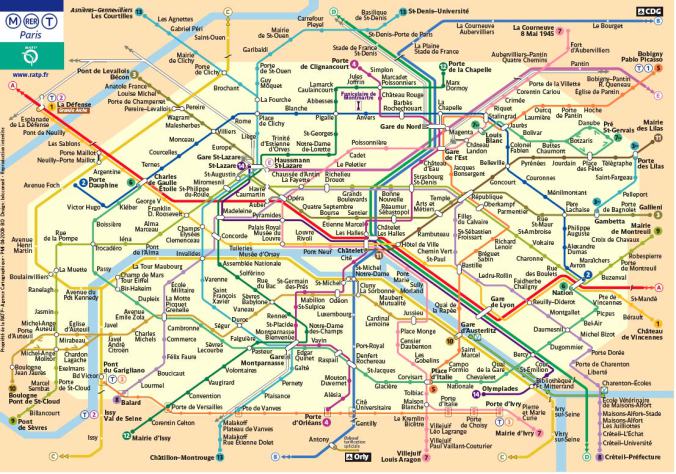 Map of the subway stations in Paris
Bus
The bus is as the taxi and go all over the city. Basically, this is a great (and cheap) way to discover the city. The stations are outside and you can recognize the line with a color and a number. However, bus speed depends on the traffic, which can be very unpredictable in Paris. Hopefully, there are some dedicated bus lanes but not for all of them. In addition, you have to be very careful if you want to change lines and/or connect with others.
If the bus is a great way to move around the city, I would not recommend it as a tourist: it can be confusing, hard to understand, slow and very packed. The schedule is not as predictable as the subway and finding your way or the station you are supposed to stop is more difficult.
Taxi
For many US persons, it does not sound reasonable to take a cab when you are going somewhere in the city. This is mostly because US cities are very big. However, Paris is very small (for my Pittsburgh friends, think that the city is basically as big as a 6/7 miles circle). Without traffic, a taxi fare will be less than 10 euros for sure. So, if you are tired or late, the taxi might be a good option (in case of no traffic jam). If there is traffic, you can be stuck and it might cost you a lot. So, be careful!
I want to ride my .... bicycle!
Paris offers a bike sharing program called Velib. You can rent a bike with your credit card. I used the system when I lived in France and as far as I remember, it requires a subscription. This might have changed, you can check on the website: http://en.velib.paris.fr/
Walking
It sounds insane for a US person to walk in a city because many cities in the US are not very walkable: you drive from neighborhood to neighborhood and walk inside the neighborhood. But most of the time, you do not walk from one neighborhood to another. In Paris, the whole city is easily walkable. You can go from east/west or north/south in less than 2 hours. I used to walk in Paris a lot. In fact, the last year, I stopped taking the public transportation and walk all the time. As a tourist, this is something you might enjoy because you will discover many small things you would not notice if you just take the public transportation.
Some tips if you walk:
the whole city is less than 2 hours walking east/west or north/south. So, the worst-case scenario to go somewhere is two hours walking
use the metro map to locate yourself if you are lost. You will find metro maps at metro stations entries and most of the metro stations are located in big boulevards/streets
Safety
Generally speaking, Paris is a very safe city and you are not likely to have any safety issue. Observe all the rules you follow when going to a big city: keep your valuable in your pockets so that nobody can take them, avoid any spot/area that might not safe, etc. I would recommend some area to avoid, especially at night:
La Goutte d'Or: located close to Stallingrad and the 18th district, this is not a very safe area
North of 19th district: the 19th district has some troublemakers. When going around, you should not have any issue but in case, you might to avoid the area.
Barbes: lots of traffic around Barbes, I would recommend to avoid.
What to see in Paris?
Major Places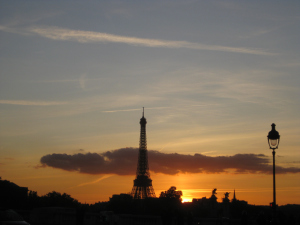 La Tour Eiffel
The Eiffel Tower
The Eiffel Tower is one of the major touristic spot in Paris ... and of course, you can take the stairs or the elevators to visit it! There is also a restaurant inside with a beautiful view. Go to the restaurant for the view, not the food.
Unfortunately, there are long lines to visit the place with lines starting to be full more than one hour before it opens. However, you can cut the line if you book your visit online within a dedicated time frame. Be careful, these tickets can be sold out pretty quickly so I would recommend to book very early. In that way, you skip the line and can visit this site quickly, which can be very good in terms of bad weather.
Go for: major monument in Paris
Do not go if: you do not have too much time
Location: Metro line 6 (Champs de Mars Tour Eiffel)
Notre-Dame
If you are a religious person, Notre-Dame is the place to go. Believe it or not, I have never been inside! I walked a lot around but never ever been inside it. Definitively, this is worth to have a look at it and just the architecture of the building is pretty amazing. Go around, walk around the Seine river, check out the open book stores close to the Scene, this is pretty nice.
Go for: major religious place in Paris, architecture
Do not go if: you are not a religious person
Location: Metro line 4 (St Michel Notre Dame)
Le Sacre Coeur
Le Sacre Coeur offers one of the best view in Paris! You start from Pigalle and climb at the top of the site which offer an amazing view over the city. This is something to do if you are around. Also, once you get there, walk around the Abbesses district: there are some local market in the neighborhood called "Montmartre". This is the old Paris and they used to have vineyard in this area.
Go for: the view, the neighborhood
Do not go if: you do not like steep hills
Location: Metro line 2 (Anvers) or 12 (Jules Joffrin)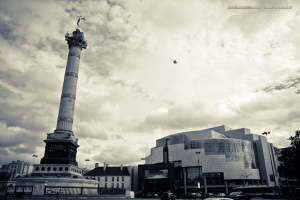 Place de la Bastille
Moulin Rouge
The Moulin Rouge is close to the "Sacre Coeur" in the Pigalle district (Pigalle metro station). Stop there at night to see the amazing building.
Go for: the history!
Do not go if: you do not have time ...
Location: Metro line 2 (Pigalle)
Canal St Martin
The Canal St Martin is a romantic and beautiful canal within the city. Accessible from many metro station (Jaures, Republique, Stallingrad, etc), it is a nice way to spend some time with your loved one. At night, people used to have a picnic and hang out around the canal. If you see many people talking and hanging out together, do not be afraid! Check the wikipedia page.
Go for: a romantic moment along a canal
Do not go if: you are alone
Location: Metro line 2 (Stallingrad, Jaures), line 8, 9, 5 (Republique) and many other
Information: check the wikipedia page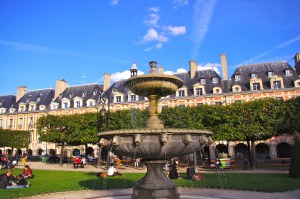 Place des Vosges
Place des Vosges
The "Place des Vosges" is one of the most pretty place in the city. Located next to "Place Bastille" and in the wonderful neighborhood "Le Marais" (see below), this is a place to check out if you want to see nice architecture. The place itself is beautiful but the streets around are amazing (for example, the "rue des Francs Bourgeois" or "Rue des Rosiers"). Many famous people (including politics) are living around. Check out the wikipedia page with more information but this is typically a good idea to go around and see "Place Bastille", "Place des Vosges" and "Le Marais".
Go for: the architecture and if you are going around Bastille
Do not go if: you run out of time
Location: Metro line 1, 5 and 8 (Bastille station)
Information: check the wikipedia page
Le Marais
Le Marais is a neighborhood/district in Paris that has wonderful building with amazing architecture. This is also a very active neighborhood where the gay community hang out. If you are looking to walk around old and beautiful building, you should definitively go there. Also, the Jewish community has roots in this district. This is definitively an interesting area to hang out, in the center of the city.
Go for: the architecture and if you are going around Bastille
Do not go if: you run out of time
Location: Metro line 1, 5 and 8 (Bastille station)
Information: check the wikipedia page
Champs Elysees
One of the most expensive avenue in the World! I would recommend to start at the top of the avenue (where the "Arc de Triomphe" is - metro "Charles de Gaulles Etoile" line 6), walk down, continue to the "Jardin des Tuileries" and finish to the Louvre. This is a 2/3-ish miles walk which can be quite amazing.
On the avenue, lot of shops to see but not too much to shop. In fact, the stores are more here for the prestige. One thing you might stop for is the "La Duree" shop filled with Macaroon. If you have a sweet tooth, it is definitively worth to stop by. Be careful, this is expensive, but well, you are not in Paris every day, right? On the other hand, I would not recommend any restaurant on the avenue: this is not so good and definitively over priced.
Also, it can be interesting to go there during the day and at night. The avenue is definitively changing all over the day. Finally, keep in mind that this is open every day (while the other shops are closed in Sunday). So, might be a good idea to go here on Sunday!
Go for: one of the most famous place in the world!
Do not go if: you do not like flashy stuff
Location: Metro line 1 (Champs Elysee, Georges V) or 6 (Charles de Gaulle Etoile)
The Bibliotheque Nationale de France
Bibliotheque Nationale de France
The Bibliotheque Nationale de France is composed of four giant building that contains books. Built during the presidency of Francois Miterrand, this is a masterpiece of modern architecture. I used to go very often in this area to get silence and admire the building during a couple of hours. Also, there is a bridge that connects the two parts of the river. Very cool bridge and interesting bridge in terms of architecture. If there is a secret gem in Paris in terms of modern architecture, this might be it! Check out the official website and the wikipedia page. Also, check out the pictures on flickr to see what is looks like.
Go for: the architecture, the silence, the view over Paris and the bridge over the Seine
Do not go if: you do not like architecture
Location: Metro line 14 (Bibliotheque Francois Mitterand)
Pigalle
Pigalle is the "red light district" of Paris. Plenty of sex shops and night life folks. You go here for the show in the street (no, there is no naked girl!): this is a pretty active zone with plenty of tourists. There are also theaters and the neighborhood is really active. Also, this is very close to Montmartre and Le Sacre Coeur, so, easy to visit when you are there.
Go for: the neighborhood and animation in the district
Do not go if: you are limited in time
Location: Metro line 2 (Pigalle)
La Bastille (with the Opera)
La Bastille is a central place in Paris that connects to the Republique place. Very nice place to go, you can walk over the Seine river to get there. Also, there is an Opera with Ballet and classical music. If you are in the mood for a nice show and have the time, this is worth check the schedule out on the official website.
Go for: the neighborhood and animation in the district
Do not go if: you are limited in time
Location: Metro line 5, 1 (Bastille)
Opera
Wonderful building, if you are fond of architecture, this is definitively worth to have a look at it. Also, if you like classical music or dance, you should check out the schedule.
Go for: the building and the show
Do not go if: you do not like architecture and/or are limited in time
Location: Metro line 3 8 or 9 (station Opera)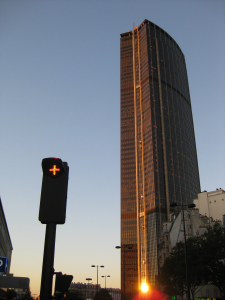 La Tour Montparnasse
Tour Montparnasse
La Tour Montparnasse is one of the tallest tower in Paris (probably the tallest in fact). Here, this is mostly office, probably some attractions but nothing really fancy or impressive. However, you can go on top of the tower (by lift) and have a fantastic view of the city. To do so, you must see the details on the main visitor website. The tour is very famous all over the world. It is also famous for being the biggest European building contaminated with asbestos (and removing it is a huge problem which might lead to pollute all the city). If you like modern architecture, this place might be special for you!
Go for: a major piece of architecture
Do not go if: if are scared to be contaminated of asbestos or have no time to get there
Location: Metro line 6, 12, 13 and 4 (Montparnasse)
Museums
The Louvre
Le Louvre is a beautiful museum but ... probably too packed. The architecture of the pyramid is great, the shops around are beautiful but the museum is really big. It takes a while to enter inside and you will never finish in a day. Do not misunderstand what I said: the museum is nice, the architecture wonderful but as a tourist, you might want to see something else. At least, go outside to see the architecture of the building and the pyramid.
Also, the Louvre is next to the Tuileries garden, a beautiful park that connects le Louvre to "Champs Elysee" and the "Trocadero" place.
Musee d'Orsay
The Musee d'Orsay is another museums of Paris that has less people than the Louvre and definitively worth it. You will not spend too much time visiting the Museum and getting there. I would recommend to visit it if you are a museum person. Plus, you can visit the whole thing in a couple of hours.
Musee Georges Pompidou or Beaubourg
The Museum "Georges Pompidou" also called Beaubourg is an "Art contemporain" museum. The building is amazing (built in the 70s) in the center of the city. If you like this type of art, this is definitively a must-go. If you are not a big fan, go and check out the architecture of the building (at least).
Versailles Palace
Versailles is outside Paris. So, if you want to visit the Palace, you will have to take the RER (regional train) - not the subway. Once you are at the train, you will need to walk to get there and there are signs from the station. You can visit the Palace and the garden. The garden are very huge and will take you a couple of hours of walk. These are wonderful, so, try to visit during a sunny day. To get faster, you can buy your ticket online, this will avoid to wait in line.
Go for: the history - damned, the king of the assholes french lived there!
Do not go if: you do not have time or history is boring for you
Location: City of Versailles, use the regional train line C at station/stop Versailles Chateau.
Information: official website and wikipedia
Parks and Gardens
Luxembourg
The Luxembourg garden is where the French senate is located. Beautiful park (with many runners!), it is also close to Notre Dame, so you can walk there if you visit the religious building as well. In case of good weather, it can be great to walk there and sit for a while (there are chairs around the lake).
Go for: garden, the french senate
Location: RER station Luxembourg (line B) or Metro Station St Michel (line 4)
Check the information on wikipedia
Buttes Chaumont
The Buttes Chaumont is a wonderful and hilly place in the 19th district. This is a very nice and friendly neighborhood and you would love to hang out over there for a couple of hours. When going to Paris, I logged my steepest runs in this park. During the summer, a good plan is to take a bottle of wine, some cheese and baguette and just have a wonderful picnic!
Go for: the outlook over the city
Location: Metro station Buttes Chaumont (line 7bis) or Pyreneese (line 11)
Information on wikipedia
Tuileries
The Tuileries garden is close to the Louvre. It offers a wonderful walk between the Concorde Place and the Louvre. A wonderful park to run in if you want to log some miles. Unfortunately, not too big!
Go for: peaceful park next to the Louvre
Location: Metro "Les Tuileries" or "Concorde"
Information on wikipedia
Open Markets
Paris has a lot of open markets open all year long. The same vendors come in these markets every week. So, you'll have to find out where there are markets near to your location. When you go there, you can expect really good and local food (cheese anyone?). Check out this page for example, this one or even this one.
When I come back in france, most of the time, I do not go to restaurant and go to small market like this, take ham, cheese, fruits and buy a baguette in a good bakery. So, I have very good ingredients and food for a few days and avoid to waste money and time in restaurant (and more than 50% of Paris restaurant food is frozen food ... you might not want to pay for that!).
The open markets are probably the best places to find fruits and vegetables. Look for the "agriculture bio" label which identifies organic food.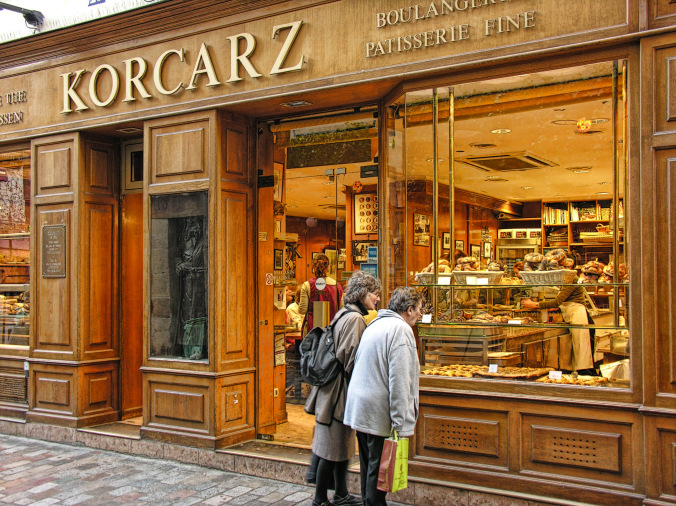 The Korcarz bakery in Rue des Rosiers
Where to eat?
Le Baron Rouge (wine, cheese and charcuterie): one typical wine bar that serves many different types of wine and cheese and meat platters. Very simple but one of the best wine bar I have been, this is definitively a must go if you want to taste good red wine! David Lebovitz wrote a critic about this place on his blog in case you want an evaluation by a US person! Check out the yelp page. Metro station line 8 Ledru Rollin.
Tricotin (chineese food): this is not a restaurant but an Asian institution in Paris! Tricotin offers good Asian food at a reasonable price. Located in the Asian (Chineese) district of Paris, this is a good place to have a good meal but also discover this not so typical area of the city. Lebovitz also wrote something about the place on his blog. Check out the yelp page. Accessible from line 7 at metro station "Porte de Choisy".
Le Bambou Vietnamese food. Very (very) packed but really good food there! Do not expect to have a romantic and quiet experience here! Accessible from line 14. Check out the yelp page.
La Coupole (typical brasserie with art-deco style): a french institution, you go at la Coupole for the architecture, the place that is around since a very long time! The food is very good but probably overpriced. However, the place is wonderful and having a meal there is definitively an good experience when visiting the city. Information on the main website. Accessible from the "Montparnasse" metro station (line 6, 12, 13 and 4)
Chocolat Michel Cluizel: this is a chocolate manufacturer that won several awards for his chocolate and candy bars. He comes from Normandy (my country side!) and has even a shop in New York. So, if you like his chocolate, you can order it in the USA online.  Check out their website.
Mc Donalds: believe it or not but French people are the #2 consumer of McDonalds over the world! You will find McDonalds all over the city! Why? The burger chain managed to adapt its products to the french population and tastes. The recipe? McBaguette (yaisse!) or Big Mac with whole wheat bread, something you'll never find in the USA! Interesting to see the differences with the US version, might be worth to make a trip!
Korcarz and/or Finkelsztajn. Korcarz and Finkelsztajn are two famous bakeries in the Marais in "Rue des Rosiers". If you are hanging out around Bastille, Le Marais or Place des Vosges, these are good places to try!
Mariage Freres tea: if you love tea, you must go there! This is an amazing place for tea. Go there for the show with all the person selling tea and letting you discover the different flavors! Located in the same area as Le Marais. Check out their website.
Where NOT to eat?
Quick: this is the competitor of McDonalds. From Belgium, this is just a burger chain. Go to Mcdonalds instead, definitively better
Many sandwich or bakery chains: avoid at all costs all the stuff like "la brioche doree" or big nakery chains. Instead, try to find local places that shows the stickers "Artisan Boulanger" or even "Boulangerie Biologique" (organic place). These places care more about their ingredients than big chains and have probably better quality breads.
Questions and planning your trip
If you have any question regarding your trip, feel free to leave a comment or send me an e-mail. I will try to do my best and update this article according to your needs!