Are Online Reviews Legits? (previous title: "Why Giulietta e Romeo Hotel in Verona sucks like no other hotel?")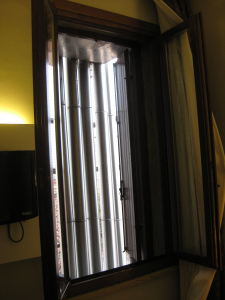 Wonderful outside view from your room on the ... ahem ... air conditioning system
My recent trip to Verona brought me to book a hotel in the city center to attend a conference. Before booking, I tried to have a look at online reviews in order to make my mind and decide where to stay. I am not usually very picky about where I am going, the main guidelines at quiet room, some space, good internet connection and if possible, having an early breakfast. So, I figured out that reading what previous guests thought would be a good idea.
At the same time, an article from the print issue of consumer report reported that online reviews were often not legit and owner of touristic places used to pay for good (to add some value and convince people to come to their property) or bad (to convince people not to go to their competitor) reviews. They even reported that consumer-driven site (such as Angieslist) are not so helpful. And it seems to be a big deal: business owners are actually suing google, arguing that bad reviews cause them to run of out business.
I decided to give a try and after reading different online reviews (using tripadvisor, google and booking.com), I choose to go to the hotel Giulietta e Romeo. Located in the city center, close to the shuttle for my conference, it seemed to be a good bet. So, I booked this hotel for four nights. It was expensive ($300/night) but the other hotels were pricey as well. So, I figured that the places around will be expensive no matter what.
Once I got there, the nightmare begun: the room was small, the staff rude and inappropriate, the machinery from the elevator woke me up at night. Clearly not something that could be considered as a 3 starts hotel but rather a 2 stars motel, the only good aspect would be the location.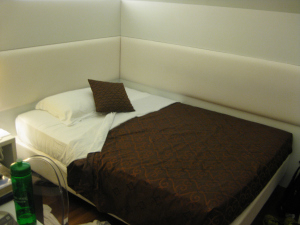 The room is well ... small
Of course, I did complain to the hotel, saying even sometime like "I was no longer expecting something good from them" but they did not even care. After all, they were just rude, inappropriate and did not provide a room or a service that can be considered 3 stars. There was nothing I can do about it. I figured it could be useful to report it to the same websites I read before booking to let people know other places might be a better bet.
Before writing my feedback, I tried to look at few reviews where people complained to see if other folks had similar problems. Surprisingly, they were treated aggressively by the staff, which deny that they might have done something wrong. Sounds I was not alone! But from a business perspective, such a behavior does not make sense: such an answer would just increase the customer frustration that would eventually impact the reputation of the hotel. I remembered having one issue (bad type of bed - two double beds instead of a king) with a hotel in Orlando, FL (the Orlando Radisson Resort) and I was astonished by how the staff answered to my complain: they acknowledged, apologized and offered a compensation for the inconvenience just after giving me the right type of room. That is what one call a good customer service!
But having posted an online review about my experience, the staff answered only after a couple of hours in (what I would consider) a rude and pretentious way. Basically, they denied what I reported, providing weird arguments and reasons (for example, the reply reported that the phone was not working because I do not know how to make an international call - something I hopefully know how to do after living abroad since 6 years). Again, I do not understand why the hotel replied to the review like this: it does not make any sense but to prove that they are even care about how people feel about their hotel and how to improve the customer experience. This is something that can do nothing but degrade their reputation.
The take-away from that experience? Online reviews might not be as legit or helpful as you might think. And it seems that fake reviews is real and potentially a big business. A place or a product with plenty of good feedback might not be the good bet you are looking for and just financially supported by their owners to get good comments! Comparing the two hotels I was talking about earlier? The worst got 93% of good reviews while the one that was the most comprehensive and customer-friendly got 59%. After checking to some other location I visited before, it seems that having good review is not so helpful.
So, before choosing a place to stay or a product, do not over think about it. Looking at online reviews might be helpful but trying to make your mind with pictures, potential advises from friends or just common sense (in my case, something that could have triggered my mind is that such a name could be a trap for tourists!) might even be better. So, just follow your own judgment and if you go to Verona, avoid this spot, at least, this review is a legit one!
Note: Wow, it seems that right after my review, the place got a new one that contradicts mine. Considering the small size of the hotel and the number of reviews per week, there is no room for any doubt about fake reviews. Just sad that such places can get such a good rating and would just degrade the overall touristic experience.