I have been a resident of Swissvale for more than 2 years now and I think I have a good idea about where to go if you want to be outside. I might miss some details and you are welcome to send errata or just some information to complete this guide.
The following map is a general map of Swissvale with many points of interests. It includes several places for outdoor and indoor activities. Also, a good source of information about swissvale can be found on the swissvale community website.
General points of interests
Frick Park
The Frick Park has a lot to offer for almost everybody. You can walk, run, bike, have a picnic, let's your kids play on the playground or let your dog exercise in off-leash areas. Located very close to Swissvale, you can just walk/jog/bike there or even park.
The Western Pennsylvanian Orienteering Club has made a map of Frick Park. You can find it there.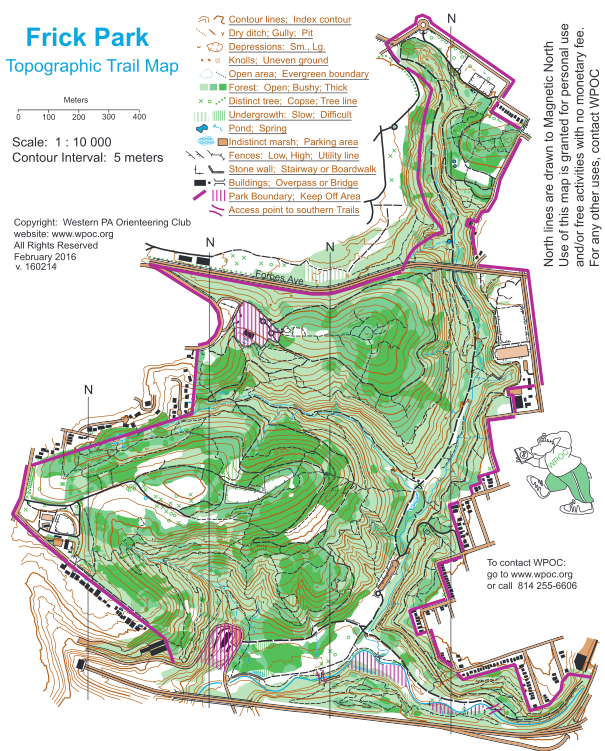 Going to downtown by bike
From Swissvale, you can go downtown with your bike very easily and using almost only bike lanes. This is about 10 miles, which can be between 30 minutes and one hour, depending your fitness level. The route pass by the south side and along the Monongahela river, which is very pleasant.
You can check out the map on mapmyrun
Connection to the GAP
The GAP lets you do a full 335 miles bike ride from Pittsburgh, PA to Washington D.C. You can easily go on the GAP course from Swissvale, the route pass by Homestead. All it takes it about 2 to 3 miles.
You can check out the map to connect to the GAP from Swissvale on mapmyrun. An alternative if you do not want to use commercial st. and the trail: use the Rankin bridge, which has a bike lane. You can then connect to the GAP.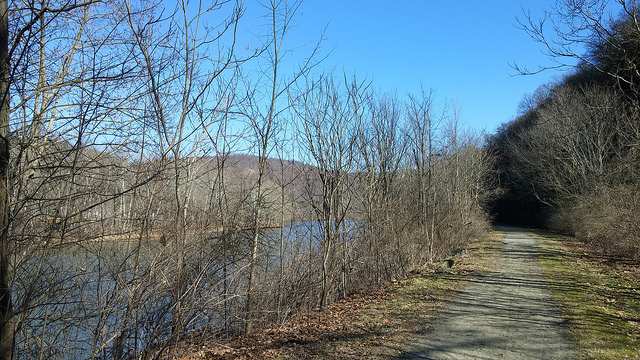 View while riding on the Great Allegheny Passage
Running and Biking
General tips
Do not use South Braddock Avenue, use East-End Avenue instead. You will avoid the pollution and heavy traffic.
During winter, be very careful of potential icy spots in Frick.
Going to Frick
There are many options to go to Frick. If you go by running/biking/walking, the options are the following:
Go down commercial st and turn right at the bottom of commercial (location of Entrance Frick 1 on the map)
Use South Braddock and use the Park entrance at the CLASS building (location of Entrance Frick 2 on the map)
If you are driving your car, you can park around the park, either at the bottom of commercial, close to the CLASS building or close to the tennis court. The map has some dedicated places to indicate where you can park.
There is two maps available if you want to train in Frick: a 10 miles option that go through Frick and Schenley and a easy 4 miles loop only in Frick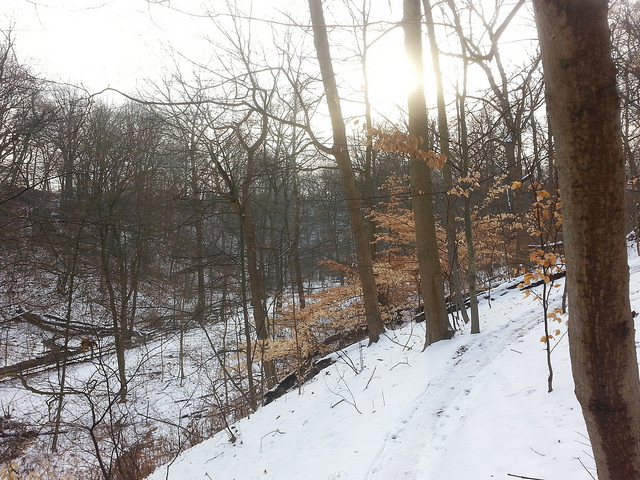 Frick Park during Winter
Fast 5 miles around Swissvale/Wilkinsburgh/Edgewood
There is a good loop around Swissvale/Edgewood/Wilkinsburg that I do regularly and is fantastic if you train for a road race. This is a 5 miles loop that you can extend depending your training needs (you can extend by going in Squirrel Hill through Forbes for example).
This route does not has much hills so you can have an idea of your pace on a road race, such as a marathon. This is the route I am using when I want to do a speed test for a 10K, a half marathon or a flat marathon such as Pittsburgh. Check out the map there!
Route Suggestions
The following routes are there to give you some ideas for commuting by bike or running. The goal is not to take the shortest route but the one that is short and try to avoid cars and traffic. It is a good compromise to commute without having potential hazards or issues.
Walking
Frick is probably the best place for a walk around. Unfortunately, getting there might take some time and the route to go to the park is not so nice. check out the map to see where you can park. Otherwise, you can still go and walk around Swissvale and go to different parks. The children playground in Swisselm is great when you have some sun.
Playground
Swisselm Playground
The Swisselm playground is a great location close to Swissvale. You can also go there by walking or biking (assuming your kid(s) can bike).
Frick Park Playground
There is also a playground in Frick Park at the entrance on Beechwood Boulevard. Unfortunately, this is not so easy to access it if you are walking and would require to drive. However, there is plenty of parking around.
Dog Parks
Frick Park has two dog parks:
Located in the lower part of Frick Park, this is easily accessible if you park close to the tennis court (entrance 3 on the map)
Located in the upper part of Frick Park, it is better to use the entrance on Beechwood boulevard to find it.
Bike-friendly businesses
Biddle's Escape: this local coffee shop has a bike rack in front of the store. Well located close to Frick Park, this is a fantastic place to have a cup of coffee with a friend or stay to work.
East-End Food Coop: close to Swissvale ( to 3 miles), it has some bike racks available next to the parking lot. Bonus, we have a map that shows how to get there safely by avoiding South Braddock.
Bike racks close to D's: in the Regent Square area, there are some bike racks close to D's. Convenient if you want to shop in the area but definitively not as cool as the one from Biddle's Escape.
Events around Swissvale
Communities and Social Media
Bike Pittsburgh: THE non-profit to join is you like biking in Pittsburgh. They have a fantastic bike map available on their website. Thanks to them, Pittsburgh has more bike lanes since the last years.
Steel City Road Runners: probably the biggest running club in Pittsburgh. Supported by the Pittsburgh marathon office, it offers multiple runs every week in different locations across the city.
Frick Park Trail Runners on facebook: group to organize runs in Frick Park
Maps
Suggestions?
If you have any question or suggestion to improve this, please contact me.